My Journey – a deep dive into the ocean of life,
exploring the dimension of the soul.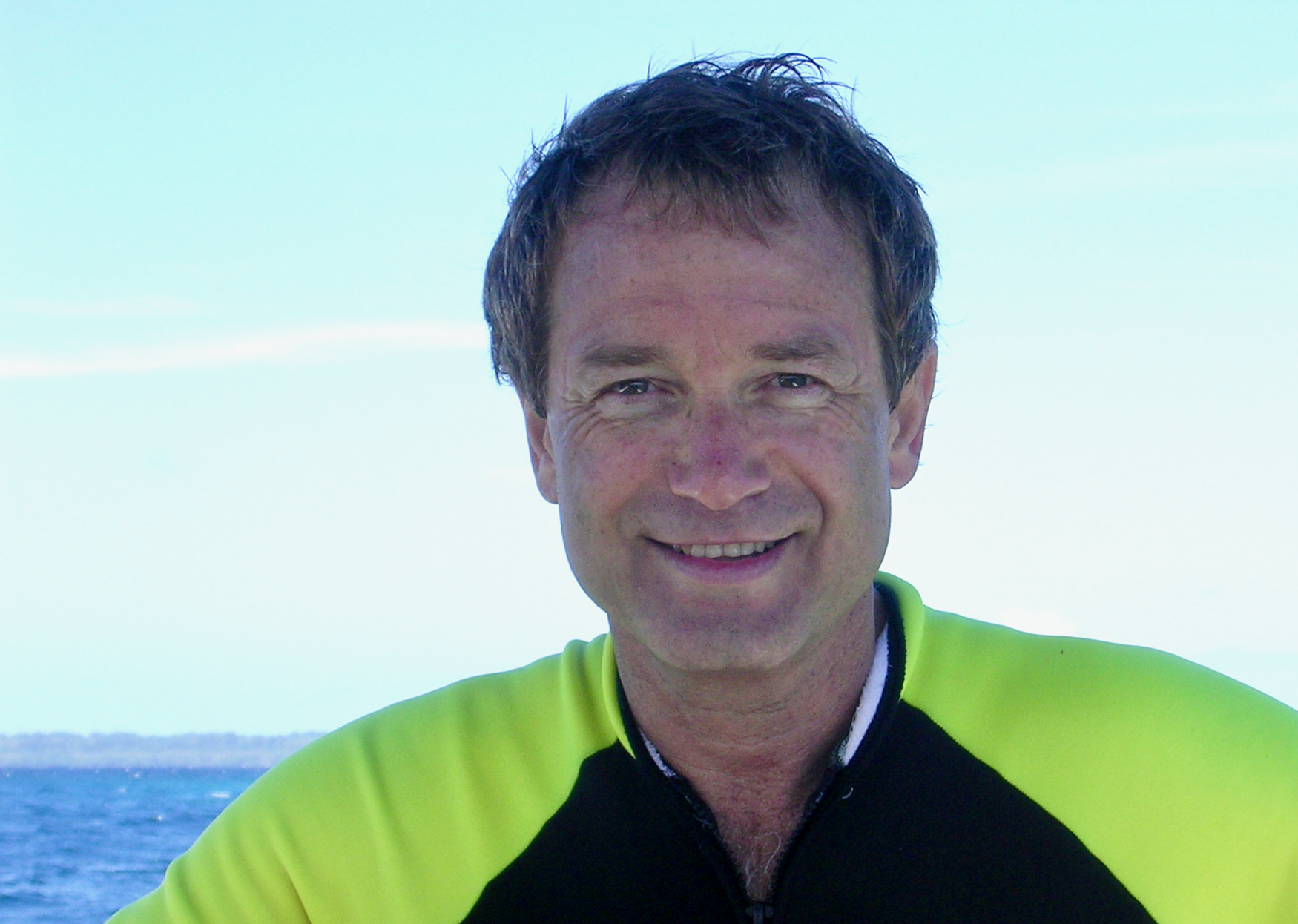 We are human star seeds of higher consciousness.
Our stage hovers in space, our act – within a timeline,
but our purpose is larger than both.
Our true essence of being is boundless,
each of us – a unique window into Love.
Ever since I remember, my focus was immersed in my passion for the mysteries of life and the nature of the soul. My experiences in childhood were spontaneous, yet somehow familiar – from mystical instances of timeless expansive consciousness, to sudden hits of profound presence of peace, to intuitive visions and innate dream interpretation… At the time I was not ready yet to make sense of it all, but my curiosity was insatiable, embracing the horizons of both science and the metaphysical.
My thirst took off following my traumatic experience in a war, where one night, under the million-star desert sky, stricken by agony and grief, I was overwhelmed by a transcendent inner wave of longing and soul commitment, calling me to embrace the deeper reality of a life that I instinctively knew was my true purpose. Soon after, at age 21, I set out on my soul quest all around the world and into the universe of my soul. Exploring became my way of life, and soul discovery – my personal compass.
In the midst of a diversity of exciting experiences (this was in the early 70's), I learned to meditate. A huge door was opened – I discovered the vastness and beauty of my inner space, its treasures and limitless love. And so, I set sail on a deep, all inspired, creative journey within. As my thirst was deep, so was my focus and commitment to my inner transformation.
A few years later I began to work closely with a world renowned spiritual teacher, in a time of a huge surge of global shift in consciousness across most of the planet (the 70's and onward). I began traveling extensively to all 6 continents, teaching meditation, counseling, and inspiring soul awareness in people from all cultures and walks of life. I fell in love with the inner experience of pure boundless consciousness, and with the magic of sharing soul passion and insights – cultivating people's personal growth, touching hearts and transforming lives.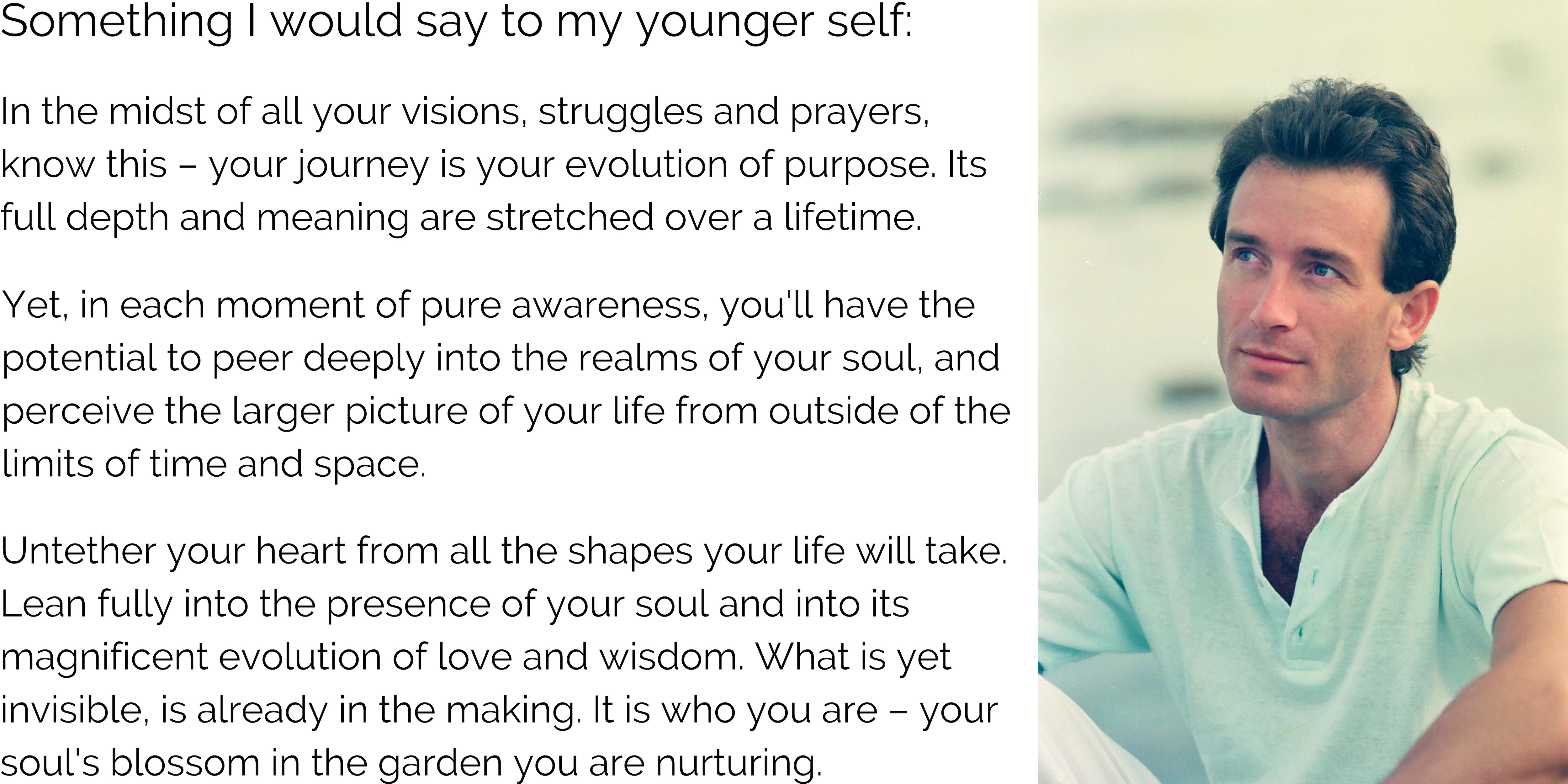 Over the years I embarked on a wider global community work, public speaking, team training, strategic development and executive management, with a number of international humanitarian organizations, embracing the cause of peace through raising consciousness and inspiring collaboration and generosity. These were exciting years of passion and vision, heart inspired commitment and service, an expansive sense of purpose, and deep connections with amazing souls all around the world.
As life would have it, I did go through my share of struggles and heartaches, rejection, loss and grief. Some of the deepest breakthroughs in my life followed intense dark nights of the soul, crossing the vast void of uncertainty from painful endings to daring new beginnings. And so, I kept diving deeper into my personal soul evolution, calling in the strength of my spirit and its buoyant trust and hope.
Challenges do make us stronger, wiser and kinder. Cultivating my own inner connection and intuitive gifts has deepened my love, sensitivity and kindness to others and to myself. It also amplified my awareness of our connectivity within the demanding yet nurturing process of life. I continued to study new modalities, discovering, integrating and developing new transformational tools, and expanding the circle of my experiences and skills.
There's a stage in one's learning process, having matured through your true inner work and transformation, where you tap more directly into the very source of creative consciousness. This flow of higher perception begins to unveil new insights from within you, life-changing perspectives and innovative tools that create new horizons for your experience and giving. The evolution of our soul wisdom and authentic knowledge is forever dynamic, ingenious and fascinating. All these years of experience and transformation have led me to eventually create the Academy Soul and Purpose Catalyst teaching and coaching platform.
To be a realist is not to give up on your dreams,
but to relinquish the limitations that keep them dormant.
Unleash the creative visionary within you,
and empower it with your love and commitment.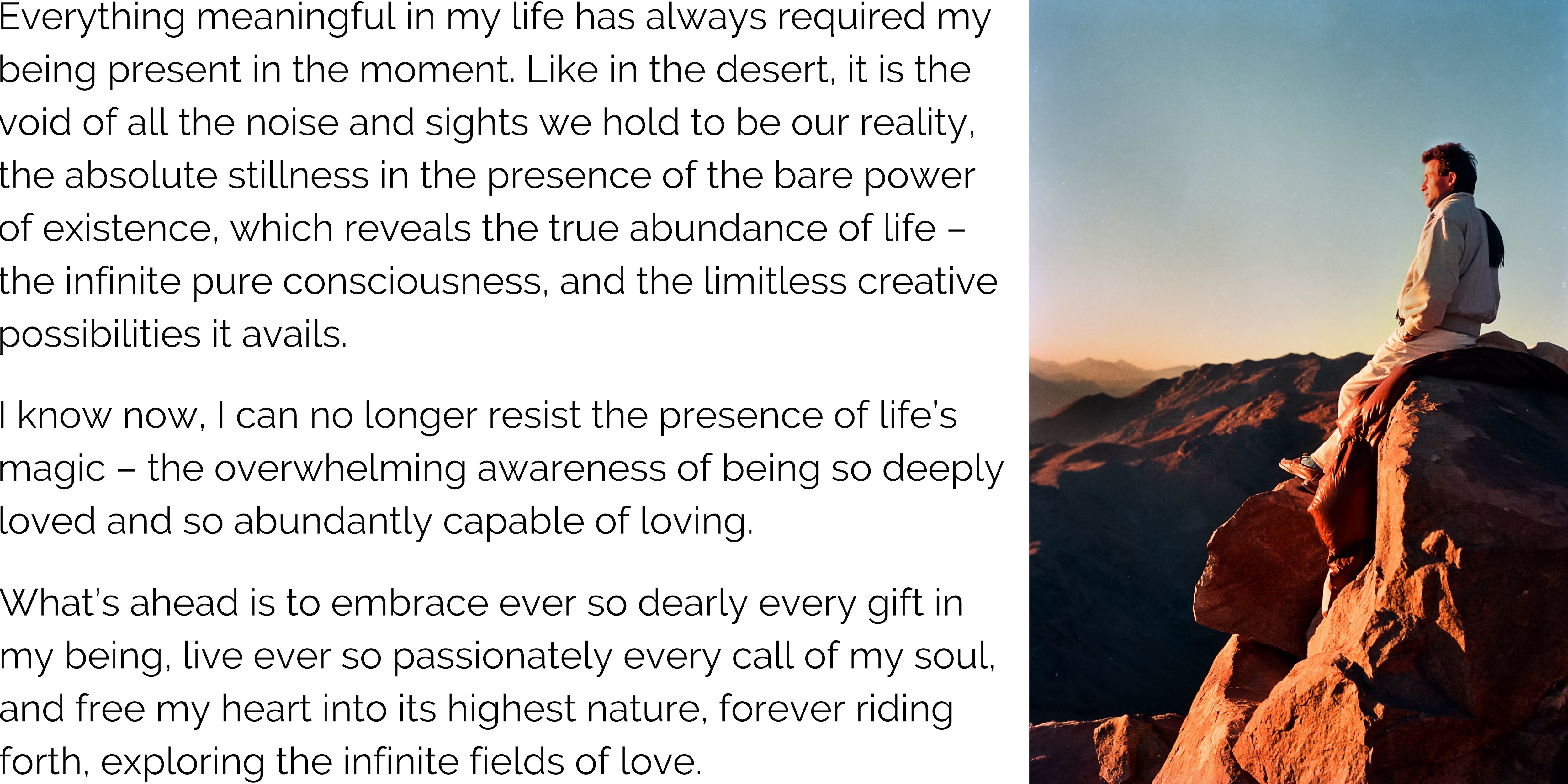 I've experienced firsthand most parts of the world during these 30 years of travels and international work. I also lived for significant periods in a variety of countries and cities. Yet, with all the rich diversity of cultures and ways of life, views and dreams around this Earth, it is the striking interconnectedness of our human experiences, and the critical shared destiny we co-create for ourselves, that I found most impressive and intriguing at the same time.
We live in an era where each of us can make a real difference, bringing forth our soul presence and gifts, our light and wisdom, creativity and compassion. The more awakened we become in our own consciousness, the more transformative, innovative and authentic our impact evolves to be.
I love giving voice to consciousness and wings to wisdom and passion. Public speaking has been central in my life for over 30 years. I spoke to audiences from a 100 people to 10,000, in more than 50 countries and hundreds of towns and cities. Sharing soul insights, inspiring a deeper awareness, and catalyzing strength and freedom to create and live fully one's highest purpose, is more than a passion to me – it is my nature and the voice of my soul.
It is our empowered connection to the deeper realms of the soul that enriches our expression and turns it into an instrument of awakening, healing, inspiration and nurturing. I've carried this essence of true soulful communication not only to large inspirational events, but also into board meetings, visionary consulting sessions, community gatherings and team training. And I've always seen the audience lights up as the stillness of attention would draw each person into the depth of their own heart and inner knowing.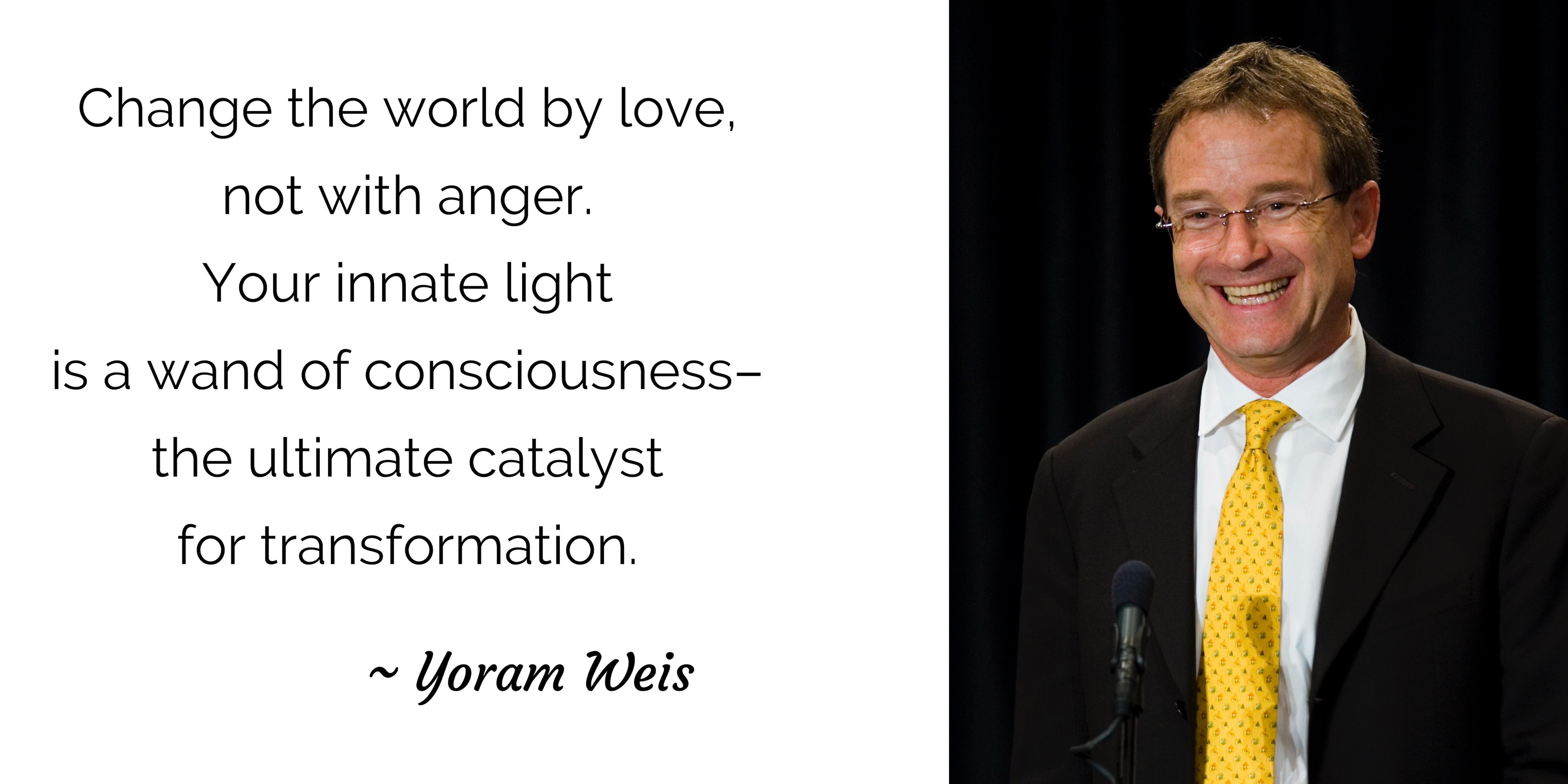 We are fortunate to be here, now, in this time of massive human transformation and awakening, emerging from within an increasingly chaotic world state of affairs. Starting in the early 70's and crossing into this new millennium, I've experienced and been a part of the many changing phases in our collective spiritual and new thought evolution. I have witnessed the generational shifts across our connective spiral of learning, as we've all grown together, both in our soul maturity and in our discernment. In all fields of life, we must never stop learning, evolving, innovating and transforming – it is an asset of our creative human nature.

Do I hold hope for what's to come, I mean globally? Yes, even through the hardest times ahead. I can never relinquish the unbreakable knowing that we cannot ultimately fail. Even through my failures I have only grown stronger, and more importantly, kinder. There is something about our human light that cannot be diminished, not even by our deepest darkness. Each of us is essential in this process, and each of our gifts of consciousness is a precious note in this symphony of evolution. Our individual music must be played and heard, here and now, on the stage of our everyday life.
This is what motivated me to create the Academy Soul and Purpose Catalyst platform – a fertile experiential learning space with transformational perspectives and tools. My core intention is to help catalyze true awakening, authentic personal growth, and mastery of each of our unique callings. I believe in people. I love who we are deep within, even if at times, for a million different reasons, we have a hard time showing up with it. Underneath the thin surface of appearance, life is infinitely invested in each of our journeys, rooting for the fulfillment of our deepest potential.
Higher consciousness is life-changing, soul resources are self-empowering, and personal experiences – enlightening and transforming. And still, it is in integrating and embodying our learning and acting on our own unique purpose, that we mature into the fullness of our being, and co-create our most fulfilling life journey from our soul.
A poetic mystical journey of the soul

One thing I love and am passionate about is poetic soulful writing. As in speaking, so in writing, it has always been for me like a stream of consciousness – a soft downpour of new insights, images and metaphors, and an all enchanting presence of the soul. Writing from this inner space of my heart is to me a gift from my higher self, like a thread of light that connects me to the timeless Source. It's another precious way for me to embrace and embody the wider dimensions of my soul, and bring forth its presence, love and wisdom into my life.
I published my first book: You Are Your Purpose, in January 2016. You can read more about it and find the links to get it in different parts of the world: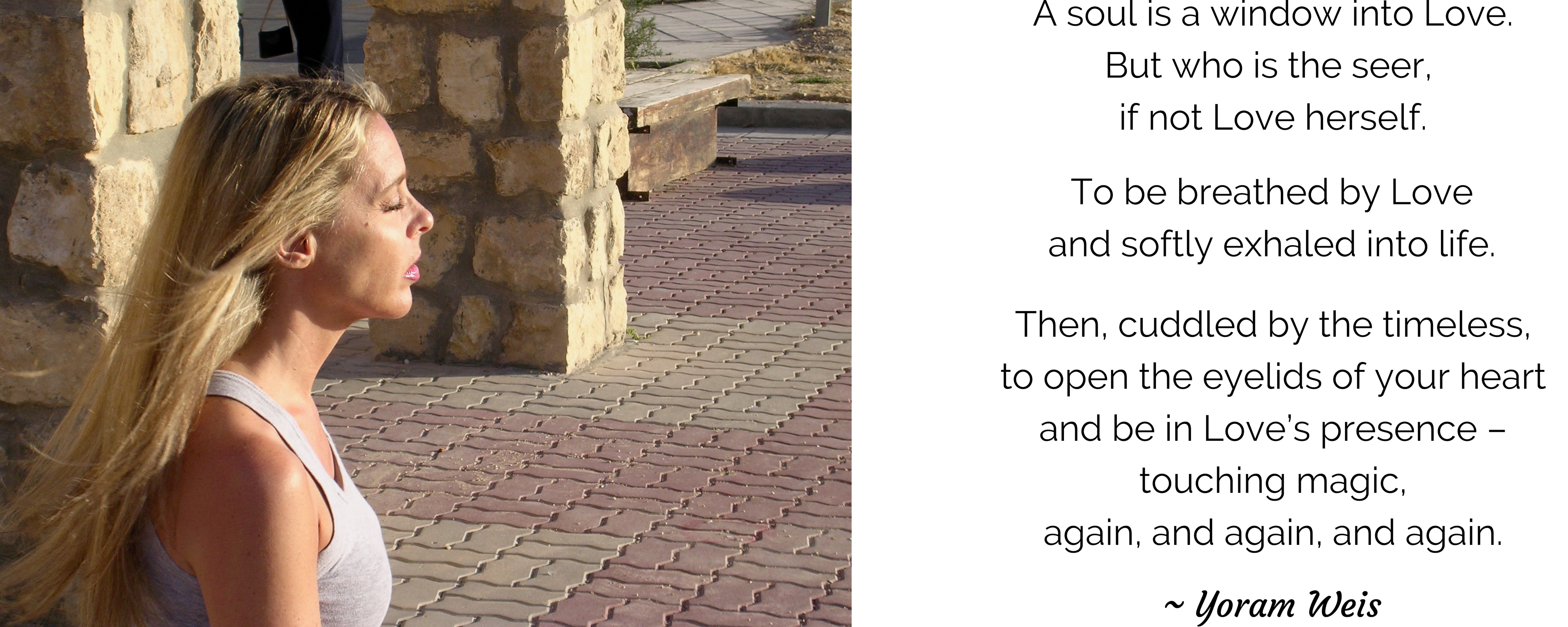 Some souls are present in your space so vividly – you can feel their breath in your heart. You love and appreciate them with such immense gratitude, as if your feelings and thoughts were freed into an unquenchable thirst to see their happiness blossom in front of your eyes.
In my journey – Sophia, with her unique spirit of relentless love and beauty, has been this precious angel to my soul. Since we fell in love, 15 years ago, she's been to me a source of deep feminine wisdom and insights, a muse of love and laughter, gifted with intuitive clarity and soul maturity. She is my personal miracle, and miracles do happen – they need to be seen and embraced by our love.
When such a date with destiny appears in your life, you know it is the arrow sent by your own heart's longing that has finally returned to you, this time with wings of intimacy – a soul intimacy, touching your heart with infinite beauty, nurturing you to grow into the authentic being of kindness and love that you were created to become.
We have finally entered the era, in the long chaotic history of our fragmented humanity, where the feminine energy is called upon to step onto the stage, shine brighter from the deep, and help bring back the innate wholeness and true equilibrium this world has been missing for millennia. The near future may be intense, but the far horizons of our evolution are full of promise.
Click to watch this video: Dimensions of Love
How to engage all the dimensions of love, embracing and embodying its full expansive nature and transforming gifts.