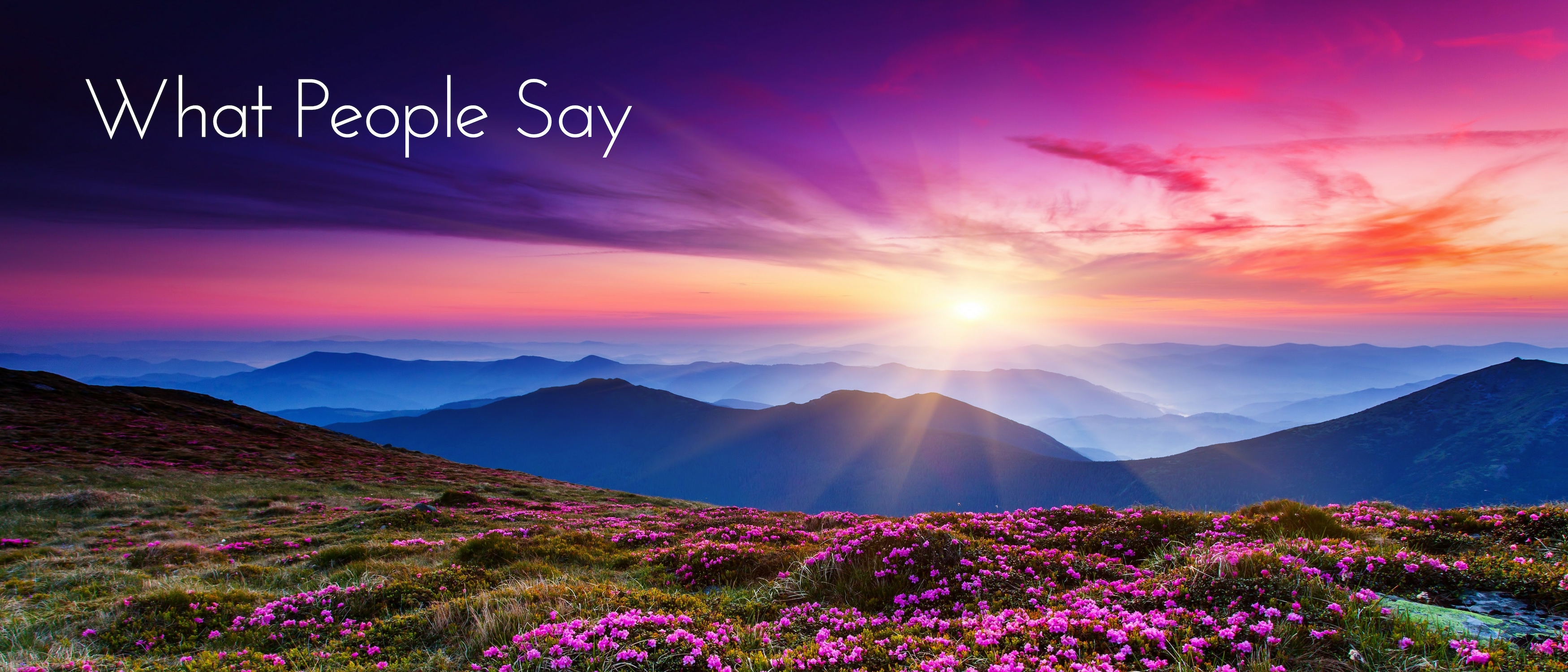 Testimonials and Endorsements
"Yoram is an extraordinarily articulate and charismatic leader, an inspiring speaker and a truly innovative thinker. He models the behavior he expects from others, and is continuously learning and growing as a professional and as a person. I've watched him build global teams of extreme diversity – volunteers and paid staff, young and old, from a variety of countries and cultures – while aligning and motivating them to produce great results. Yoram has a truly global mindset – an essential characteristic for a 21st century leader."
—Erika Andersen, co-founder of Proteus International, business thinker, keynote speaker and leadership mentor; author of Being Strategic, Leading So People Will Follow, and Be Bad First: Get Good at Things Fast.

"Yoram is an inspired and inspiring coach and catalyst, a man who is committed to the highest aspirations of others and has a very well-developed ability to spark change, motivation, and quantum leaps. I feel privileged to know Yoram and am very much taken with his ability to engage others in the process of waking up and committing to their highest purpose in life. A gifted man, indeed."
—Mitchell Ditkoff, founder of Idea Champions, innovation consultant and keynote speaker, author of Full Moon at Sunrise, Storytelling at Work, and Storytelling for the Revolution.
"Yoram has an extraordinary sense of purpose and vision and whenever I saw him address large international audiences, and cross-cultural teams, he would always underline why we are doing what we are doing with clarity and conviction. Countless times I've seen him catalyze an understanding for the wider potential of our shared vision and common cause, always with kindness and respect."
—Tina Lindgreen, founder and president of WAFA (Water-Food-Air Awards).
"Yoram is an exceptional communicator for anything that he believes in. Inspiring public speaking and the ability to help people create their visions and strategies, are the tip of the iceberg of this remarkably talented individual. I've seen him in action on many occasions and recommend him highly."
—Timothy Gallwey, founder of The Inner Game, author of The Inner Game of Tennis, The Inner Game of Golf, The Inner Game of Work, and founder of The Inner Game International Schools.
"Over my twenty-five years as President of the Center for Communities of the Future, I've had few individuals I collaborated with internationally who understand the concept of personal and societal transformation to the extent that Yoram does. He has not only the ability to analyze the needs of situations and people when they are threatened by transformative change, but also a rare set of skills from which he can select to bring people into an area of comfort with the challenges of constant change.
One of Yoram's greatest talents is in facilitating individuals through authentic dialogue to think about the emerging future in new ways, enabling him to build networks of people with the capacity to collaborate at a deeper level within a "futures context."
I give the highest recommendation for Yoram as a Transformational Coach. Few people I have met, combine the background experience and compassionate nature, with such a creative, inquisitive mind. Yoram is the epitome of what a personal, organizational and community transformational coach needs to be in this era of historical change."
—Rick Smyre, president of the Center for Communities of the Future, owner of Strategic Concepts, Inc, co-author of Preparing for a World that Doesn't Exist–Yet.
"Over the years I've had the pleasure of listening to Yoram speak to large audiences where you could have heard a pin drop because of the skillful way in which he draws you in and keeps you on the edge of your seat listening to every word. He has a calming nature and solid presence that is truly an expression of his authentic self.
His writing demonstrates his storytelling ability to capture your attention, inspire and move you, and is not simply limited to his public speaking. Yoram is a perfect example of someone who lives his calling, and can motivate others to cultivate their own personal power."
—Pamela Miles, empowerment coach and speaker, founder of Wisdom of Within, and global beauty guide at LimeLife.
"Yoram's book, You Are Your Purpose, is a love letter from ourselves to ourselves. After struggling with the Tony Robbins and Robert Kiyosaki's approaches to finding focus in self and connection with the greater population around myself, and in that, greater success (as both a verb and a noun), I turned to Yoram Weis.
This man showed me that the path to external success was the rebuilding of grace that I had lost internally in a busy world. Truly loving ourselves, and then offering that love to the world, is the secret that I now live by…
He is the Zig Ziglar of the human soul… I cannot urge you strongly enough to open yourself to the next place of grace that awaits you… with his capable help."
—Ray Vaughan, owner and CEO of Alien Vehicles.

"Yoram made profound contribution to our House of Hope project. He mentored numerous leaders and members of our Board of Directors and helped crystallize our Vision and Mission. He brought us from being a "weak" group to becoming a strong confident organization, with his comprehensive training and mentoring. I would highly recommend him without a question!"
—Hank Heister, board director at OCHH, wellness researcher and coach, independent associate at Bremer USA.
"I've had the pleasure of knowing Yoram for many years, and have experienced him to have an amazing capacity to inspire people. Whether in an organizational environment or mentoring individuals or teams, he is incredibly creative, and offers insights that help individuals rise to their potential. His energy, enthusiasm, and coaching abilities are superb."
—Susan Hubly, realtor at John R Wood Properties, Naples Florida.
"Yoram is a very talented and inspired coach who has the ability to work with people from all backgrounds and cultures. He is able to do this because he has an uncanny ability to focus in on what is basic to human beings. He is dedicated to the growth potential of people and will spend extraordinary amounts of time to help someone overcome internal hurdles.
It's rare to find someone who really cares, but I have found Yoram to exhibit that quality day in and day out. The opportunities I've had to work with Yoram over the years have always been a pleasure and a great learning experiences for me."
—Ira Woods, executive producer at Illustra–TV, CEO at OneWorld Memorials.
"You Are Your Purpose is a spiritual journey of self discovery and introspection. A true guide to living your life with purpose and authenticity.
As I read this beautifully written book, I found the inspiring, teaching words come so softly, like a soft guiding light, yet having such a profound effect on my consciousness. I found myself reading each chapter over again, each time nourishing my heart and soul in a deeper way. Each verse quieting and opening my heart and my mind, with clarity guiding me to see where my soul can soar.
I love reading this book before I go to bed, as well as first thing in the morning during my meditation. It is very, very heart opening!!!."
—Lea Jacobs, national sales manager at Eclectic Institute.
"Yoram's gift is an uncanny ability to capture a feeling and transform it into a catalyst for action and powerful results. He inspires the best in everyone he encounters. He's kind, humble, and honest. I highly recommend him to anyone who wishes to define and manifest their purpose."
—Ora Munter, author, illustrator and producer of The Ice Veil Tales.
"Yoram excels at coaching. For many years he has been helping people and organizations to connect deeper with their cause and realize their wider potential in expressing their vision. This has been my experience attending his presentations.
His strength and skills lie in his capacity to inspire and catalyze, through coaching, training and mentoring. He has special skills in cultivating people's potential and inner capacities to develop into their full potential, and he offers special insights into what is possible to succeed as an individual and as an organization."
—Carlos Linares, technical advisor and evaluator at United Nations OPS.
"Yoram is a multitalented natural leader as well as an inspiring speaker. He tackles seemingly impossible tasks with enthusiasm, talent and determination. He is an outstanding public speaker with a strong background in strategic development and funding.
I worked with him for many years in a demanding non-profit environment and witnessed first hand his passion and commitment. An excellent motivator, leader and strategic development expert."
—Michael Wood, international photographer and video producer, former CEO of Dunrite Productions.
"Yoram is one of the most capable persons to inspire and catalyze people, teams and organizations. He is an amazing coach, trainer and mentor and has tremendous vision and strategic development capacity, cultivating people's potential with creativity and insights and with motivating speeches and presentations."
—Susana Guardiola Lapuente, writer/director/producer of documentary and fiction films, CEO at Stories by Susana.
"I led a workshop on nonprofit business model assessment, and Yoram was in the audience. He immediately understood the framework and demonstrated its function in an example he devised on the spot. Yoram's enthusiasm for the intent and utility of the tool was infectious! Both his presence and active participation in the workshop were a huge credit to me, and I really appreciated his thoughtful demonstration. His bright intellect was on display, but in a way that helped others develop a deeper understanding of the subject. Yoram's gift of engagement is palpable, and made a big impression on me. I hope to work together one day!"
—Kori Kanayama, organizational change consultant, adjunct faculty member at University of Redlands.
"Yoram is one of those rare individuals who can take what many would view as a truly daunting project or issue, find the heart of it, and communicate that essence elegantly to a very wide audience – generating understanding and strong collaboration and support.
I have enjoyed listening to Yoram over many years, have been in workshops he has organized, and worked as a volunteer on several projects he has overseen. He has extraordinary energy, insight and dedication. A truly talented individual with the human touch."
—Gail Browne, corporate, event and lifestyle photographer.